Introduction
To see the whole slide imaging (WSI), please register to pathpresenter for once.
There is no charge for this registration.
Gross Findings
The specimen consisted of multiple small strips of of sac-like tissue. The specimen was entirely submitted.
Microscopic Findings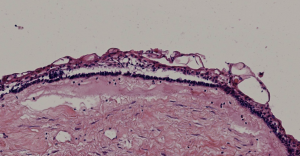 Please click here to see Whole Slide Imaging, then please click the  'CASE INFO' button for the explanation
Final Diagnosis:
UNICYSTIC AMELOBLASTOMA
5–22% of all ameloblastomas

Age

16 years for cases associated with an impacted tooth

35 years in the absence of impaction

A slight male preponderance

Most often located in the mandibular third molar area and ascending ramus

Followed by the body and symphysis

Most maxillary cases tend to occur in the posterior areas
Take-Home Messages
Radiographically mimics a cystic lesion,

Initial treatment often consists of enucleation

Further treatment is determined by the pattern and extent of the ameloblastomatous proliferation, therefore the whole specimen should be submitted and evaluated microscopically.
2017 WHO :
It has been recommended that a mural type case should be treated as a conventional ameloblastoma when it recurs