Introduction
To see the whole slide imaging (WSI), please register to pathpresenter for once.
There is no charge for this registration.
Gross Findings
The incisional biopsy consisted of a 1 cm in the area of the lesion.  It was bisected longitudinally and entirely submitted.
Microscopic Findings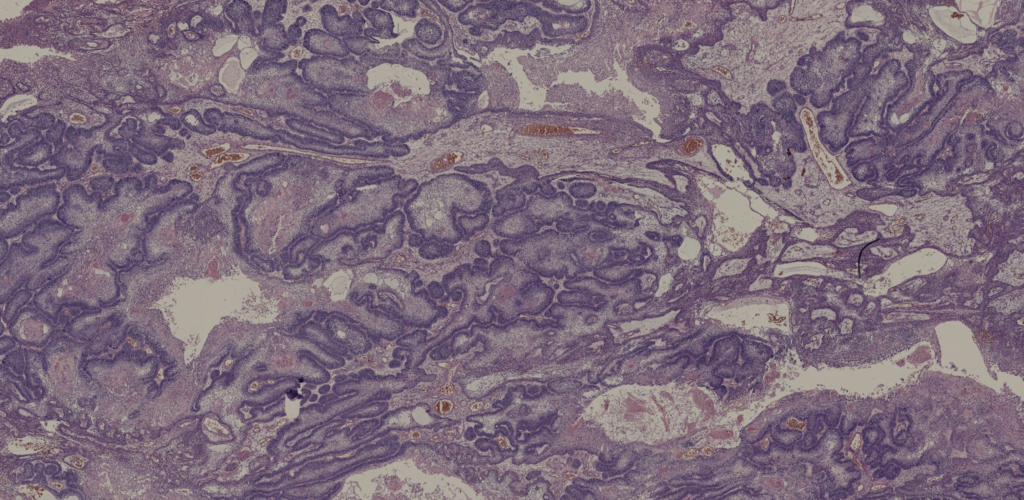 Please click here to see Whole Slide Imaging, then please click the  'CASE INFO' button for the explanation
Final Diagnosis:
AMELOBLASTOMA
The most common odontogenic tumour, excluding odontomas

age range of 8–92 years and no sex predilection

Approximately 80%: mandible; posterior region,

Followed by the anterior mandible, posterior maxilla, and anterior maxilla

Desmoplastic ameloblastoma: the anterior region of the jaws, especially the maxilla
Treatment
Wide surgical excision with usually 1.5 cm beyond the radiographic margin

Conservative surgery: A high recurrence rate

BRAF inhibitor treatment has been proposed, alone or in combination with MAPK/ERK kinase inhibitors
Take-Home Messages
Ameloblastoma is a benign but locally infiltrative epithelial odontogenic neoplasm

No cytological atypia 

It may develop multiple growth patterns (unicystic, multicystic-solid/conventional, peripheral) and histopathological variants (basaloid, acanthomatous, follicular, plexiform, desmoplastic, granular).

Most tumors have a mixture of histopathological variants.

The standard of care is complete excision with negative margins irrespective of the histopathological variants.