Introduction
To see the whole slide imaging (WSI), please register to pathpresenter for once.
There is no charge for this registration.
Gross Findings
The specimen consisted of multiple small strips of sac-like tissue. The specimen was entirely submitted.
Microscopic Findings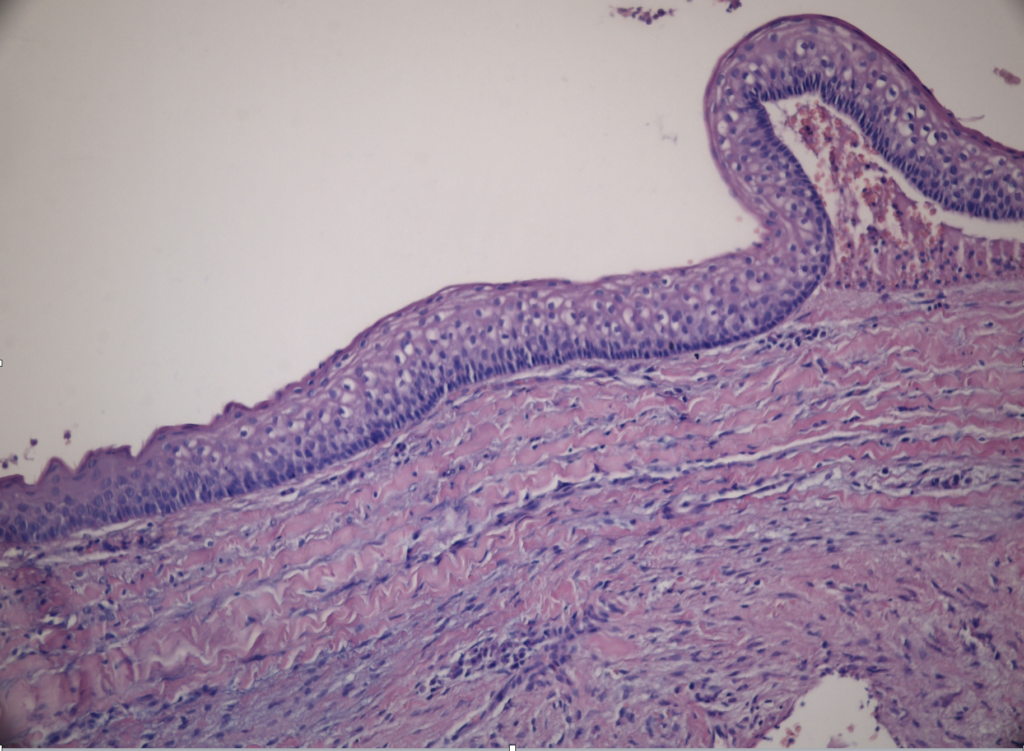 Please click here to see Whole Slide Imaging, then please click the  'CASE INFO' button for the explanation
Final Diagnosis:
ODONTOGENIC KERATOCYST
10–20% of odontogenic cysts 

The third most common cyst of the jawsa peak incidence in the second to third decades of life and a second, smaller peak among patients aged 50–70 years

A slight male predilection 

As many as 5% of all OKCs occur as part of Gorlin syndrome: tend to be multiple and effect younger patients 

80% of cases in the mandible, ramus-angle
Treatment
Most often by enucleation, or by surgical resection for large lesions 

Prior to definitive cystectomy, many cysts are decompressed/marsupialized.
Take-Home Message
The histopathology of odontogenic keratocyst is pathognomonic and the diagnosis is easy.

With significant inflammation in the cyst or if marsupialization has been attempted, the typical features are lost, and the diagnosis may be impossible.

Multiple lesions can be associated with nevoid basal cell carcinoma syndrome.

It has a relatively higher recurrence rate than other odontogenic cysts.